Overview of Our Lady's Messages

A Chosen Soul

Call of Our Lady Queen of Peace

Spiritual Director

Fruits in Abundance

Conversions

Major Physical Healings

Prophesy Fulfilled

Matrix Medal


Holy Water


Our Lady with Tears

The House of Prayer Achill

Chain of Houses

Our Lady's Fraternity

Novena to the Most Blessed Trinity

Protection of Homes

Young People

Sources of Information

Christina Gallagher and the Church

Frequently Asked Questions

Media Misrepresentation

Voice of Our Lady's Pilgrims

Contact Details

All material on this website
is ©Copyright. All Rights Reserved.




"All Heaven Has Blessed the Water" at House of Prayer in Achill




Shortly before the opening of The House of Prayer, Christina Gallagher was told by Our Blessed Lady "I desire a font for spiritual healing. As the priest blesses its water all heaven will bless it and the waters around the island will be blessed."

On the occasion of the blessing of the Holy Water Font, Christina witnessed the spectacular sight of a multitude of angels coming towards the font. One of these angels swept over the font striking the water with a cloth sash he was holding. Heaven seemed in jubilation.

The holy water in the font on the grounds of the House of Prayer has been the source of many testimonies of human healings. Testimonies have also been given of sick animals recovering after water had been given to them. Here is the account of a most remarkable healing of a dying boy.


Martin Craig, an eleven year old boy had been very ill with a viral infection, the source of which could not be found. He had only a short time to live. Mucus forming in his brain had to be drained and the location of any abscess could not be found as this was thought to be a reason for the brain mucus.

His head was opened and a search made right down to his cheek bones and the back of his nose without success.A swab of his throat was also taken as it was thought that if this was the source of the abscess, his tonsils would be removed while he was unconscious. Again nothing was found. Martin suffered fits and types of seizure. This was the reason he was comotosed to give his body a rest from these fits.

He had been blessed by relics but to no avail, then on one Saturday he was blessed by holy water from the House of Prayer. On the Sunday his termprature was down and it was decided to remove the drain-tube from his brain and the mucus was all gone. By Monday, Martin was greatly recovered , taking and eating ice-cream. His mother was so grateful for all the prayers for and the great gift of the return of her son. The doctors still do not know what caused the mucus to gather in his brain nor can they explain his healing. His family just thank God and His Holy Mother.

TOP

"I took a drink of the water. I felt out of this world." "Look! I can walk!" The words of Kathleen Kelly when she was suddenly healed after drinking the water at Our Lady Queen of Peace House of Prayer in Achill in September 2006
The Sudden Healing of Kathleen Kelly

Verified accounts of physical healing, as well as spiritual healings and conversions, linked to particular visionaries and mystics and reported messages, have always been regarded as among the best indications of how genuine they are. In the case of Christina Gallagher, and Our Lady Queen of Peace House of Prayer in Achill, there have for eighteen years been numerous signs and a constant flow of testimonies from people who have received powerful favours. Hundreds of these have been documented and a number of the most significant physical healings have been verified as medically inexplicable.

An account of how a sudden healing took place on 10th September 2006 is related here in testimony given shortly afterwards by those involved, an elderly Co Mayo lady and her daughter visiting the House of Prayer.

Kathleen Kelly, who is in her eighties is from Kiltimagh, Co Mayo and she was very seriously debilitated in the months following a major operation earlier this year. It had a ffected her mobility and movement of her arms and legs, particularly on the right side. She was also in considerable pain and had to stay with her son and daughter-in-law, following the operation. She needed help to sit down and to get up, and she used a walking stick to assist her. The physiotherapist regularly called on her, to work on her arm movement .

"On that Sunday morning in the church at Kiltimagh, my daugher and her husband, back on a holiday from America, helped me to sit down on the seat and to stand up. After Mass, they said we'd take a trip to Achill Island. At the House of Prayer, we went into the chapel and then went for a cup of tea. I had to be helped, particularly while sitting down and getting up."

"My daugher suggested that we walk around the yard outside and visit the holy water font. When we went to the font I aked Our Blessed Lady to help me and I took a drink of the water and I made the sign of the cross on both my knees. Then I got the strangest feeling, something I couldn't explain. I felt as if I was out of this world. I handed the walking stick to my daughter and said. 'You can carry that now'. She grabbed hold of me, I think she thought I was going to fall or something, I turned around and said 'I don't need it. Look, I can walk'."

Mrs Kelly said she was completedly taken by surprise, but she realised right away that something miraculous had happened to her. Shortly after that her daughter left a few coins down on the ground and asked her if she could pick them up - knowing her condition a short while earlier. "I bent down and picked them up. And I began to move my arms up and down and could put them where I liked, something I just could not do beforehand. The pain was gone."

Confirming her greatly improved condition since her healing experince in Achill, she said "I can still walk around and can move my arms and so on. Asked if her name could be made known, she said "I don't mind people knowing it. The truth is the truth." She said she prays every day to Our Blessed Lady and has great faith in her. Mrs Kelly's daughter Anne, in her testimony described how, along with her husband, she was home on a holiday in Kiltimagh visiting her mother, Kathleen Kelly who was seriously incapacitated.

"I had been staying with my mother for two weeks, watching her struggling to get about with her walking stick, and in great pain at times. This morning (Sept 10th 2006) after Mass in Kilgimagh Church, we were about to find a place to have a meal, so I suggested that we go to the Hosue of Prayer, Achill. I was there earlier this week, and I had an urge to return. My husband was not too anxious to drive there, but we went and arrived with my mother. We immediately went to the prayer chapel and then we went for tea. Afterwards my mother watched the video tape about the history of the house of Prayer"

Then we visited the font outside and prayed at the statue. " I suggested my mohter take a drink of holy water. She did, and then she stumbled, and she handed me the cane, though she could not move freely about without it for a long time. She said that she had been healed and thanked Our Lady. " "My mother has an enormous faith in Our Lady and came through an operation a few months ago and believes it was with Our Lady's help. My mother was suffering with pain up her right arem and fluid was gathering in her legs, and especially her swollen right knee. Since drinking the water her arms are now without pain and she has been laughing, which she hasn't done for a long time."

TOP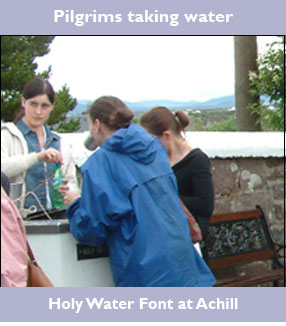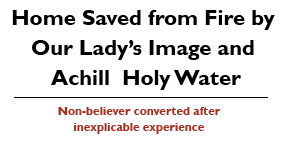 One of the most unusual testimonies involving sacramentals linked to Our Lady Queen of Peace House of Prayer, Achill and to Christina Gallagher, emerged in July 2008 when the owners of a two storey rural residence built near the end of the nineteenth century, described how a bottle of holy water from the font at the House of Prayer inexplicably extinguished a serious fire at their home in November 2003.

They also related how a family friend who had not been a practising Christian and said he no longer believed in God had a few days later assisted them in clearing out the badly burned kitchen area of the house. The man was astonished when he found himself unable to lift from a table or to throw out the almost empty 5 litre plastic can which had contained the holy water. As a result he said he would like to go to the House of Prayer and a week later didi so, when his friend was going. In Achill he met Christina Gallagher and returned home afterwards, with his attitude to God totally changed.

The man remained a practising Catholic and a firm believer in Christina Gallagher's authenticity up to the time of his death in 2007.

The rural house fire occurred in 2003 but only when this writer met the woman in early 2008 did she refer to her belief in Christina Gallagher's charism and messages and in the House of Prayer, and said she didn't believe any of the 'stuff being written in the papers' and described how several people she knew including relatives had been converted after she brought them to Achill over the past number of years.


TOP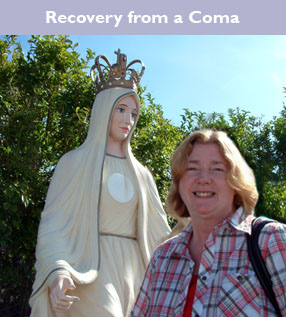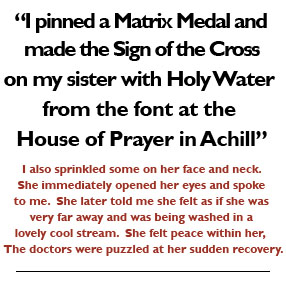 In Octoaber 2011 Josie Butler and her sister Mary gave public witness at the House of Prayer in Achil to their testimony of healing. Josie's testimony describes how her sister Mary had fallen into a coma was taken to Our Lady's Hospital, Cashel and she was told her sister might not survive. Her conditioned deteriorated further and she was taken to St Joseph's Clonmel. "The consultant and his team could get no response from her and were discussing sending her to the Regional Hospital in Cork. After they left the ward" she said, "I went in and I pinned a Matrix Medal on to her clothes. I then made the sign of the cross on her with Holy Water from the font at Our Lady Queen of Peace House of Prayer and also spinkled some on her face and neck. She immediately opened her eyes and spoke to me. She later told me that she felt as if she was very far away and was being washed in a lovely cool stream. She felt peace within her. The doctors were puzzled at her sudden recovery. Over the next couple of weeks they carried out various tests including two brain scans which thankfully all returned normal and she suffered no long-term ill effects. The doctors said she was lucky to be alive but Mary knows that it wasn't luck that brought her out of the coma but Our Lady Queen of Peace. Not a day goes by without her thanking Our Blessed Lady for the gift of life which was given back to her."

TOP