Overview of Our Lady's Messages

A Chosen Soul

Call of Our Lady Queen of Peace


Spiritual Director


Fruits in Abundance

Conversions

Major Physical Healings

Prophesy Fulfilled

Matrix Medal

Holy Water

Our Lady with Tears

The House of Prayer Achill

Chain of Houses

Our Lady's Fraternity

Novena to the Most Blessed Trinity

Gift of the Petal

Protection of Homes

Young People

Sources of Information

Christina Gallagher and the Church

Frequently Asked Questions

Media Misrepresentation

Voice of Our Lady's Pilgrims


Contact Details

All material on this website
is ©Copyright. All Rights Reserved.
Gerard McGinnity , Dr of Theology, Fr Gerard McGinnity is Parish Priest of Knockbridge, Co. Louth Dr of Theology Rev. Dr Gerard McGinnity, Theologian




©Copyright. All Rights Reserved.
Christina Gallagher's life was no different from that of any other young person as she grew up, apart from two occasions in her youth when she prayed directly to God with firm faith for requests which were humanly impossible to receive and found the favours miraculously granted (ie. the healing of her mother on her death bed and the ability to read and write unacquired at school owing to her absences from school because of her mother's prolonged illnesses).

Nothing observable rendered Christina different to those who knew her or lived with her. Within herself, however, there was one difference and it is this; from her childhood she possessed a gift of faith through which she recognised Jesus as her greatest friend, powerfully present in the Most Blessed Sacrament and for whom nothing whatsoever was impossible. As she grew older this faith was tested.

From the point of view of God's working on Christina's own spiritual life those first three years from 1985 – 1988 are significant. No spiritual experiences occurred. The impact of seeing Jesus' Head crowned with thorns at Cairns in 1985 and the accompanying horror of sin given to Christina led her to daily Mass and drew her to serious reflection. This was clearly a deliberate spiritual preparation by God for what was to come in 1988.

The experiences of Our Blessed Lady began in 1988 revealing to Christina – who never believed that such could happen to anyone like herself – the Mother of God as Queen of Peace in full apparition. She conveyed an urgent but simple message in complete harmony with the Gospels and hinging on conversion of heart; love for God; faithfulness to the sacraments; reparation for sin and for abuses of the Blessed Eucharist; healing of disputes through reconciliation with enemies; refraining from judgment of others; a spirit of constant prayer through the richness of the Rosary and an appeal from the heavenly Mother for prayer for the Holy Father; as well as a plea for intercession for priests and religious.

A detailed study of the content of the messages reveals Scriptural quotation and Scriptural references with which Christina was previously unfamiliar. Convincing, however, as this consideration may be, it was to be quickly supported by a new element in Christina's experience – even more surprising and unforeseen – One evening when Christina was visited by a priest she had never seen before, she suddenly knew his whole inner life and soul. It was a frightening experience. She could not but speak it to him. He broke down and cried. Ever since the gift of seeing souls has continued with regard to priests and laity. She begged Our Lady to please remove this knowledge for it is a great burden but was told by Our Lady that, "It is not meant to be a joy but a victorious cross." It has led to conversions for through it people have gone to confession and priests have adapted their lives. But this very burden offers us a deeper appreciation of the vocation given to Christina. She suffers for the Church. She has offered her life to God for priests. She has been shown in vision many priests who are in great spiritual need and danger. She is a victim for souls. People wrongly imagine her life must be very consoling because of such experiences and gifts but infact she has been led to immense sacrifices for the healing of souls. A good example is the apparition she was shown a couple of years ago of thousands who were trapped underground in a Middle Eastern country. Weeks later the same scene came on the News after an earthquake in Iran. Our Lady told her it had been shown her in advance so that her prayers would prepare the souls of the victims for God. Likewise she has been shown groups of people who no longer love God and live in grave spiritual danger. She has offered her life for these.

The medal struck at Our Lady's request "for conversion and protection" is a further aspect of the work entrusted to Christina. It has travelled all over the world resulting in extraordinary reports not only of conversion to the faith but of protection in air and road accidents. Not surprisingly the majority of healings brought about by this means are of the disease of cancer - cancer of the tongue, cancer of the throat, cancer of the lung, cancer of the glands, cancer of the liver, brain tumors – for Our Lady declared to Christina "it is the cancer of the soul that I desire to heal" and it seems clear that She wishes to confirm physically what She stresses spiritually in Her message. Multiple Sclerosis, blindness, cardiac-arrest, rheumatoid arthritis, complete psychiatric healing, alcoholism are only some of the illnesses and disease healed through the Matrix Medal's use without mentioning the countless conversions and the many brought back to the sacraments.

Conclusion

All about Christina from the point of view of personality, content of messages and spiritual fruitfulness is positive.The positive results of all medical tests, her sheer ordinariness' her direct and even blunt manner of personality; her transparent honesty' her keenness to help and even suffer for those who were sick and in need – all of these aspects account for the convincing impact of her ministry on bishop, priest and laity.

Impressive fruits are widely experienced through the House of Prayer which Christina was asked to establish and which was dedicated by Archbishop Joseph Cassidy on July 16th 1993. Young people have publicly acknowledged this at Youth Days in Achill. Some who had lapsed from the faith testified to receiving the grace to convert and return to confession and Holy Mass. Several of these young people have entered religious life. Two were recently ordained and are at present serving in two Irish dioceses, others are seminarians. Whole families have received the grace to return to the practice of the faith.

Then there are the large number of healings, which can only be explained supernaturally. In the case of the House of Prayer, reported healings total over 700 – a number of which have full necessary medical authentication. Common not only to the reports of conversion and physical healing, but to the everyday experience of those who visit and pray at Our Lady's House, is the love, peace, and joy that can only come form the Goodness and Grace of God.

One young priest who had firmly decided to quit the priesthood travelled from England to Achill. He got such help from meeting Mrs Gallagher that he was strengthened to remain in the ministry.

Although it is her prophecy of the destruction of the Twin Towers which is best known, that particular tragedy is only one of many events of which Christina clearly warned and have already been fulfilled.

It is because I have received at first hand the proof of these many and various happenings that I feel obliged to stand by Mrs Gallagher and this work. Because of its spiritual fruitfulness I know in my heart it can only be a work of God.

It is , I believe, our obligation to come with an open mind to such a phenomenon as this. To rule it out a priori without investigation would, of course, be both unscientific and unfair.

A number of persons had come to me over the years in the course of my pastoral duties and I felt obliged to investigate them and the experiences they reported and then, on discovering them not to be authentic to guide them to deeper genuine prayer and send them on their way. Only in this case – that of Mrs Gallagher - do I find the words of Christ fulfilled "A bad tree cannot produce good fruit"

By the same token I must add that, were I not in a position to vouch for so much of this work. I could hardly have imagined the degree of unfair criticism rash judgment and twisted stories circulated about Mrs Gallagher and so readily believed by those
who have never met her.

Remarkable Light from Blessed Sacrament at Our Lady Queen of Peace House of Prayer in US

In October 2012 a recording was made at Our Lady Queen of Peace House of Prayer in the US, at the conclusion of Holy Mass. The video recording, only viewed for the first time in June 2013, was found to have a remarkable light coming from the host, pulsating and lighting up the casing of the monstrance. The video of this will download below for playing.

| About- Fr McGinnity | "Reading the Secrets of Others' Hearts " - Fr McGinnity |




Related Links:

•'Proof Beyond Doubt' by Fr Richard Foley SJ
•Response to Media Attack on Christina Gallagher, House of Prayer and Fr McGinnity
•Attack on the Spiritual Mission of Christina Gallagher by Fr Gerard McGinnity Ph D



Medically Inexplicable healings :
•The healing and conversion of John Garbutt at the House of Prayer in Achill
•The Healing of Kathleen O'Sullivan of pancreatic cancer after prayers with Christina Gallagher and Fr Gerard McGinnity at the House of Prayer in Achill
•Doctor Says 'A Miracle' - The Healing of Jed Michael after meeting with Christina Gallagher

Hundreds of Conversions and Healings :
•Hundreds of Conversions through Achill House of Prayer, prayers of Christina Gallagher and Fr Gerard McGinnity, and the matrix medal
•Hundreds of Healings - Achill House of Prayer, and Christina Gallagher's mission



TOP

All material on this website is ©Copyright. All Rights Reserved.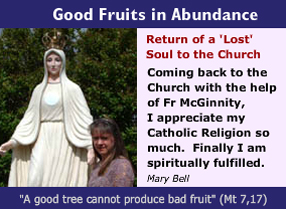 Good Fruits in Abundance
through Our Lady Queen of Peace

In October 2012 a recording was made at Our Lady Queen of Peace House of Prayer in the US, at the conclusion of Holy Mass. When viewed it was found to have a remarkable light coming from the host, pulsating and lighting up the casing of the monstrance.



The Very Rev Dr Gerard McGinnity is pictured in the video leading the congregation at Our Lady Queen of Peace House of Prayer in the US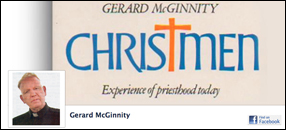 Biography of Fr Gerard McGinnity
Written and published by Our Lady's Pilgrims