Overview of Our Lady's Messages

A Chosen Soul

Call of Our Lady Queen of Peace

Spiritual Director

Fruits in Abundance

Conversions

Major Physical Healings

Prophesy Fulfilled

Matrix Medal

Holy Water

Our Lady with Tears

The House of Prayer Achill

Chain of Houses

Our Lady's Fraternity

Novena to the Most Blessed Trinity

Protection of Homes

Young People

Sources of Information

Christina Gallagher and the Church

Frequently Asked Questions

Media Misrepresentation

Voice of Our Lady's Pilgrims

Contact Details

All material on this website
is ©Copyright. All Rights Reserved.



to Attacks on Christina and her Mission

House of Prayer is faithful to Church
29 Nov 2014


Media Obsession with House of Prayer
16 Nov 2014
Read More

More False Sunday World Attacks
9th Nov 2014
Read More

Answer to Sarah Mac Donald
17th Oct 2014
Read More

Media Lies
Exposed

Statement of 2nd Nov 2014
Read More

Notice of Misleading & Uniformed Attack
Statement of October 2014
Read More

Horrendous Lies against Christina to be probed by Solicitors

Statement of Sept 2014
Read More

Vindictive Attack by the Sunday World is REVEALED for what it is
March 2014
Read More

The People Respond to REPEATED Attack by Sunday World on Christina Gallagher
26th Nov 2013


The People Respond to the Stalking of Christina Gallagher
12 Nov 2013
Read More

Response to The TV3 Midweek programme
26th Sep 2011







The directors of the House of Prayer Achill and the people who freely travel there respond to the obsessive hate-filled stalking of Christina Gallagher.
The Latest Attack
on Christina Gallagher
by the Sunday World
12th November 2013
Jim Gallagher, the stalker, who put Christina's life in danger already by publishing an image of a rifle-sight on her head with the provocative pun and revealing motive in the caption as much as to say "View to... " has resumed his stalking tactics to terrorise once again and put her life in grave danger.
On Sunday November 3rd the Sunday World resumed their scurrilous and defamatory attacks on Christina Gallagher with their so-called 'exclusive'. Once again they seem intent on incitement to contempt and hatred towards Mrs Gallagher.
As has been the case over the past seven years, this latest article is a tissue of misleading information and lies.


Houses


Mrs Gallagher owns only one house. It is because she was forced by this kind of media harassment that she had to leave her previous residences. She was first driven from her house at Newport (which she had purchased with the royalties from her own books and tapes with her personal money.) A man from the US hired a film crew from the UK and broke into her private property to film. When confronted by the Gardai this crew lied saying they had sent their film on ahead to an address in Dublin which was a bogus address discovered by the Guards. Instead the tape is believed to have been taken back to the US by those involved.

As a result of this outrageous invasion of privacy, we, the people, felt it necessary to put in place a protection for her. We did this freely and knowingly and we legally declared so in writing. This house acquired by her in Malahide suffered similar invasions of privacy through the relentless Sunday World campaign having a photographer fly over the house as related by Jim Gallagher himself and then printing a full page picture of the property. This not only brought a further procession of tantalising stalkers to the house but also rendered Mrs Gallagher's life and safety at great risk by suggesting falsely that she had antiques and possibly cash in the house. She has neither and, in fact, hates antiques. The campaign of hatred has been ruthless in turning Mrs Gallagher into a ready target for any gullible reader or hearer of this despicable material.


Incitement to Hatred. Endangerment of Life
The proof of this was clearly evidenced by the arrival at the House of Prayer of individuals - some of them in a disturbed state - who kicked in a panel of the door during a night vigil shouting dangerous threats, uttering obscenities against Mrs Gallagher and referring to the Sunday World and TV3. At this point she found it necessary to write to the Garda Commissioner, providing full details.
Lies even appeared in some of these articles wrongly asserting that Mrs Gallagher had requested cash for the houses of prayer in the US to be sent to her personally. This is a total falsehood. Those houses are vested in trusts in the US and have no benefit for Mrs Gallagher or anyone else and have no financial connection with Ireland.

When her protection in Malahide was destroyed by the Sunday World we, the people, decided to act.
Her intention had always been to give that house in Malahide to the House of Prayer after her death but because of the present needs of the House of Prayer in outstanding bills and maintaining its upkeep, Christina decided to sell the Malahide house now, to help the House of Prayer right away.


| | | |
| --- | --- | --- |
| | | We, the people, horrified that such an outrage could be permitted as to depict her within a rifle-sight and thus endanger her life and also seeing for ourselves the entire wrongdoings and the campaign of falsity, we then took the initiative to put together the means to obtain a property of her choice in order to remove her from the increasing danger and give her a little peace of mind. Christina then went to a country area in the UK at the back of a little village and procured a house with the finances thus provided. But alas not for long. Her stalker, Mr Gallagher reappeared, and caused yet again danger to her life and safety by spreading his poison in the neighbourhood of that house, blackening her character. |
Mrs Gallagher sold the house in the UK and returned to Malahide to be further mocked and endure the ongoing campaign. The money from the sale of the house in the UK was able to be used for the house that is most recently attacked and on November 3rd, placed on the headlines. Mrs Gallagher is not therefore the owner of "a portfolio of houses" in Ireland or the USA nor has the ownership of her family home ever come into question because Christina has neither been separated nor divorced from her husband. This is another of the lies perpetrated by that newspaper previously and repeated again in their latest article, as is the claim about a house in the town of Ballina, which belongs to Brendan Gallagher where he lives with his wife and children.

One of the major questions about this entire campaign of harassment and intimidation we have to ask is who can be backing all of this and paying for the constant repeating – not only in the Sunday World – of lies and falsity but also on TV3, E3 and Dialogue Ireland allegedly about cults. Who is backing this campaign for seven years against an innocent person who has tried only to pass on what she has received to believers, many of whom have enormously benefited from what they have received.

Many many were 'at death's door' but were totally healed. Not only those given up to die have been brought back and healed but countless individuals have been converted with over 700 healing testimonies on record. Yet not one of these was ever related in the Sunday World or on TV3, although they are upheld by the testimony of medical consultants. The only purpose of the Sunday World and TV3 appears to be to endanger or destroy.


Relentless Campaign

Another obvious question is why any television channel would find it worthwhile to keep continually repeating the same programme over and over, in an unprecedented way? In the space of one year the TV3 programme has been repeated on that channel or on E3 up to a dozen times, for no apparent reason other than to damage Mrs Gallagher and the House of Prayer. Since the most popular programmes are never repeated like this, we have to question who has been paying for this senseless repetition month after month?


"Cult"

We, the people who visit the House of Prayer, are highly insulted at the ineptitude of the use of the word 'cult' . The House of Prayer and the devotions there could never be considered a cult as only the regular prayers of the Catholic Church are prayed there by believers, and are the same as what takes place in churches everywhere. Furthermore, we the people go there freely and voluntarily, and to suggest that we are gullible or under some kind of influence is utterly false and absolutely wrong.

The book by the same Sunday World writer about Christina Gallagher was produced without his ever meeting or speaking with Christina Gallagher or with any members of her family, and the entire contents were based on falsehoods – a book of fiction and deception which is proven by a number of letters which we hold from Mrs Gallagher's family members… they, too, are horrified by the enormous deception of lies.

Sadly, long before the sustained newspaper and media attacks began, a great deal of misunderstanding was permitted to come about following the removal of the Sacraments from the House of Prayer in Achill in 1998 and also through failure to acknowledge evidence of the supernatural at work there. We understand that thirteen years ago a full account of the most remarkable medically investigated healings reached the local archbishop but there was no change in the situation. The removal of the Sacraments provided an open door to hostile individuals to behave in this manner. Sadly, we the people see the grave injustice as we witness the failing health of Mrs Gallagher due to all this. There is a law for bullying and harassment. Why isn't there as law for Mrs Gallagher? Even though she is cruelly setup as a marked person, as well as being bullied and harassed, there doesn't seem to be a law for her. Where are people who are subjected to such wanton media attacks supposed to go in order to gain some protection? Can media people write what they like or say what they like without being called to account? When we last sought balance and fairness in discussions with TV3 about our participation in a programme they wouldn't grant the conditions we requested. As of now we would not trust them. There is no other word for it than 'trial by media'.

Related Links

Testimony: Major Physical Healing and Conversion of John Garbutt
Testimony: Major Physical Healing of Kathleen O'Sullivan
Testimony: Major Physical Healing of Jed Michael
Testimony: Major Physical Healing of Rose McManus in the Womb

Frequently Asked Questions:
Background to the Removal of the Sacraments





Read follow-up statement
released on 26th November 2013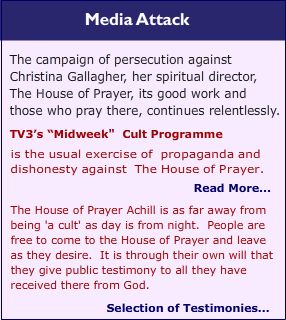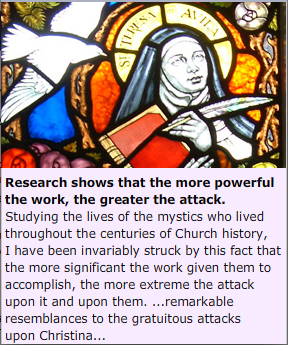 The Very Rev Fr Gerard McGinnity PhD is the spiritual director of Christina Gallagher.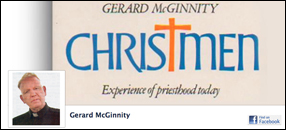 Biography of Fr Gerard McGinnity
Written and published by the people who freely attend prayers at the House of Prayer Achill.