Overview of Our Lady's Messages

A Chosen Soul

Call of Our Lady Queen of Peace

Spiritual Director

Fruits in Abundance

Conversions

Major Physical Healings

Prophesy Fulfilled

Matrix Medal

Holy Water

Our Lady with Tears

The House of Prayer Achill

Chain of Houses

Our Lady's Fraternity

Novena to the Most Blessed Trinity

Protection of Homes

Young People

Sources of Information

Christina Gallagher and the Church

Frequently Asked Questions


Media Misrepresentation


Voice of Our Lady's Pilgrims

Contact Details

All material on this website
is ©Copyright. All Rights Reserved.



to Attacks on Christina and her Mission

House of Prayer is faithful to Church
29 Nov 2014


Media Obsession with House of Prayer
16 Nov 2014
Read More

More False Sunday World Attacks
9th Nov 2014
Read More

Answer to Sarah Mac Donald
17th Oct 2014
Read More

Media Lies
Exposed

Statement of 2nd Nov 2014
Read More

Notice of Misleading & Uniformed Attack
Statement of October 2014
Read More

Horrendous Lies against Christina to be probed by Solicitors

Statement of Sept 2014
Read More


Vindictive Attack by the Sunday World is REVEALED for what it is
March 2014
Read More

The People Respond to REPEATED Attack by Sunday World on Christina Gallagher
26th Nov 2013


The People Respond to the Stalking of Christina Gallagher
12 Nov 2013
Read More

Response to The TV3 Midweek programme
26th Sep 2011







Catholic writer and journalist Martina Caffrey, MA in Theolgy, rebuts media sensational calls for the House of Prayer in Achill and Christina Gallagher
to be excommunicated, in her letter to the Irish Catholic, Nov 2014.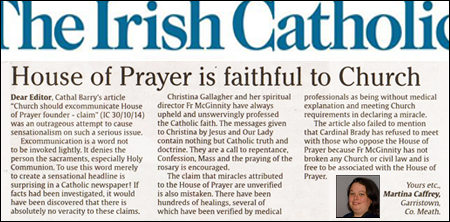 Dear Editor, Cathal Barry's article "Church should excommunicate House of Prayer founder-Claim"
(October 30th 2014) was an outrageous attempt to cause
sensationalism on such a serious issue. Excommunication is not a word which should be invoked lightly. It denies the person the sacraments, especially Holy Communion. To use this word merely to create a sensational headline is surprising in a Catholic newspaper! If the facts had been investigated, it would have been discovered that there is absolutely no veracity to these claims. Christina Gallagher and her spiritual director Fr McGinnity have always upheld and unswervingly professed the Catholic faith. The messages given to Christina by Jesus and Our Lady contain nothing but Catholic truth and doctrine. They are a call to repentance, Confession, Mass and the praying the Rosary is encouraged.

The claim that miracles attributed to the House of Prayer are unverified is also mistaken. There have been hundreds of healings, several of which are verified by medical professionals as being without medical explanation and meeting Church requirements in declaring a miracle.

The article also failed to mention that Cardinal Brady has refused to meet with those who oppose the House of Prayer because Fr McGinnity has not broken any Church or civil law and is free to be associated with the House of Prayer.

Yours etc.
Martina Caffrey M.A. Theology,



Martina Caffrey's further Response to
Outrageous Cries in Irish Media for Excommunication of the House of Prayer Achill and Christina Gallagher

| | | |
| --- | --- | --- |
| | | The sinking standards of Irish journalism have been highlighted once again in the last couple of weeks. Sensational headlines sell papers and there is not a thought |
spared for the truth behind the story. This can be seen once again in the coverage of the Irish independent and even more worryingly, in the Catholic media such as the Irish Catholic newspaper, as they failed in their duty to research and present the facts when those who oppose the House of Prayer and Christina Gallagher once again raised their voices of outrage and misunderstanding. Headlines calling for the excommunication of Christina Gallagher were splashed across the articles concerned as those who have become vocal in their hatred for Christina and the messages she is given by Our Lady and Jesus, howl from the sidelines and catch the attention of those looking for sensation to sell their newspapers.

"Excommunication" is a word which is often bandied about in the press by those who want to create a sensation and grab the attention of the public to a Church issue. It is used too easily by those who don't understand what it means and don't know Church Law. Those who use it often display their ignorance and incomprehension of the Catholic faith and a lack of the basic Christian principles of mercy and forgiveness. Some of the figures who have come to the fore in the recent attack on Christina, have called for her to be investigated and excommunicated by the Church for heresy and unverified claims of miracles. A quick glance at the spot of the internet inhabited by these people and their fellow conspirators shows a place full of anger, hatred and bitterness. They claim to defend the Catholic faith from "cults" which they have labelled Christina and the House of Prayer yet they lack the basic fundamentals of Christianity in their tirades.

Excommunication is not something which can be handed out easily, as those who demand it as a course of action against Christina Gallagher mistakenly believe, just because they do not agree with the wording of the messages given to her. They allege that excommunication is a necessary step against Christina because of heresy and unverified claims of miracles. However an investigation into the work of the House of Prayer and the messages given to Christina would show that there is no heresy involved there. As written about previously in "An Overview of Christina's Messages", a study of the messages given to Christina by Our Lady and Jesus throughout the years show the messages to be in harmony with Scripture, that Catholic doctrine is promoted and upheld and there is no heresy involved in the messages received by Christina or the mission of the House of Prayer which is a call to return to Jesus in the Sacraments of the Church and to repent and pray the Rosary for the salvation of souls. The Catholic truth and doctrine contained in the messages given to Christina are backed up by the in-depth theological teaching given each weekend at the House of Prayer by Christina's spiritual director, Fr. McGinnity, concerning the messages given to Christina and their basis in Catholic doctrine.

The further claims made by those who are attacking the messages received by Christina is that she makes unverified claims of miracles. This attack shows a clear lack of knowledge concerning the House of Prayer as many of the healings attributed to the House of Prayer have been verified by medical doctors as miraculous and without medical explanation and the testifying of these healings follow the outline of Church practice in the verification of a miracle. Several of these healings have met the standards required by the Church to announce an official miracle such as those used to attribute sainthood. This makes the claim by those who are attacking the House of Prayer and Christina Gallagher baffling as a simple research into these miracles and healings would provide the proof which upholds the messages and graces given by Heaven at the House of Prayer.

These recent attacks and the subsequent reporting of them by the media, even in the Catholic media, shows a lack of research, understanding or desire for the truth. It is easy to cause sensation and throw around words which will cause outrage and fear such as excommunication and heresy. It is easy to stir up hatred and fear and prey on the concerns of those who do not fully understand the intention behind it and who do not understand the errors which are being manipulated and presented as facts by those with an ulterior motive. As members of the House of Prayer and Our Lady's Confraternity, we strive to live the Truth of Jesus' teachings within His Church. These are the same teachings which we are strongly urged to follow in the messages given by Jesus and His Blessed Mother to Christina Gallagher as they compliment and reinforce the teachings and doctrine of the Catholic Church. The attacks against Christina Gallagher and the messages given to her by Heaven bring to mind a warning given by Jesus in the Bible to those who in the millennia to come would follow Him and proclaim His Teachings to the world, "Blessed are you when people insult you and persecute you, and falsely say all kinds of evil against you because of Me. Rejoice and be glad, for your reward in heaven is great; for in the same way they persecuted the prophets who were before you." (Matt 5: 11-12)


29th November 2014
| | | |
| --- | --- | --- |
| | | Young writer Martina Caffrey, M.A. in Theology, has specialised in Catholic writing over the last 10 years. Her writings include work published in the Hibernian magazine and the Catholic Voice newspaper. She is author of the book "A Father's Love" and is working on a follow-up book on the apparitions of Our Lady around the world. Her academic research is into the theology of the liturgy based on Pope Benedict XVI's writings as Pope and Cardinal, with a further book in the pipeline. |

The directors of the House of Prayer Achill and the people who freely travel there respond to the obsessive hate-filled stalking of Christina Gallagher.
The Latest Attack
on Christina Gallagher
by the Sunday World
12th November 2013
Jim Gallagher, the stalker, who put Christina's life in danger already by publishing an image of a rifle-sight on her head with the provocative pun and revealing motive in the caption as much as to say "View to... " has resumed his stalking tactics to terrorise once again and put her life in grave danger.
On Sunday November 3rd the Sunday World resumed their scurrilous and defamatory attacks on Christina Gallagher with their so-called 'exclusive'. Once again they seem intent on incitement to contempt and hatred towards Mrs Gallagher.
As has been the case over the past seven years, this latest article is a tissue of misleading information and lies.

Houses

Mrs Gallagher owns only one house. It is because she was forced by this kind of media harassment that she had to leave her previous residences. She was first driven from her house at Newport (which she had purchased with the royalties from her own books and tapes with her personal money.) A man from the US hired a film crew from the UK and broke into her private property to film. When confronted by the Gardai this crew lied saying they had sent their film on ahead to an address in Dublin which was a bogus address discovered by the Guards. Instead the tape is believed to have been taken back to the US by those involved.

As a result of this outrageous invasion of privacy, we, the people, felt it necessary to put in place a protection for her. We did this freely and knowingly and we legally declared so in writing. This house acquired by her in Malahide suffered similar invasions of privacy through the relentless Sunday World campaign having a photographer fly over the house as related by Jim Gallagher himself and then printing a full page picture of the property. This not only brought a further procession of tantalising stalkers to the house but also rendered Mrs Gallagher's life and safety at great risk by suggesting falsely that she had antiques and possibly cash in the house. She has neither and, in fact, hates antiques. The campaign of hatred has been ruthless in turning Mrs Gallagher into a ready target for any gullible reader or hearer of this despicable material....
More




Related Links

Testimony: Major Physical Healing & Conversion of John Garbutt
Testimony: Major Physical Healing of Kathleen O'Sullivan
Testimony: Major Physical Healing of Jed Michael
Testimony: Major Physical Healing of Rose McManus in the Womb
Testimony: Young Man's Life Totally Changed after Visit to House of Prayer Achill

TOP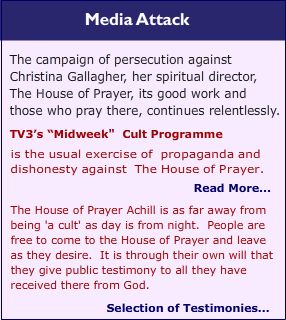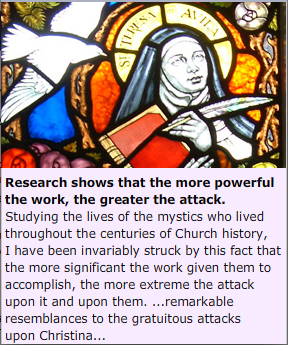 The Very Rev Fr Gerard McGinnity PhD is the spiritual director of Christina Gallagher.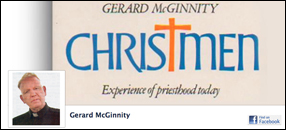 Biography of Fr Gerard McGinnity
Written and published by the people who freely attend prayers at the House of Prayer Achill.