Overview of Our Lady's Messages

A Chosen Soul

Call of Our Lady Queen of Peace

Spiritual Director

Fruits in Abundance

Conversions

Major Physical Healings

Prophesy Fulfilled


Matrix Medal


Remarkable Testimonies 2014


Suicide Survivor - Gift of Life


Truly a Miraculous Medal


Recovery from a Coma


Miracle of New Life - Twins


Return from the Brink of Death


Miracle without a doubt


Sarah - A Living Miracle


Cancer Healing


Other testimonies



Holy Water

Our Lady with Tears

The House of Prayer Achill

Chain of Houses

Our Lady's Fraternity

Novena to the Most Blessed Trinity

Protection of Homes

Young People

Sources of Information

Christina Gallagher and the Church

Frequently Asked Questions

Media Misrepresentation

Voice of Our Lady's Pilgrims

Contact Details

All material on this website
is ©Copyright. All Rights Reserved.







"I received the Matrix Medal from my chapel in Peabody, MA in July 2012. This is truly a miraculous medal.

I wanted to apply for US VISA extension for my son to stay in US. A lot of suggestions and rules from the lawyers office regarding the VISA regulations confused me and my family a lot. In fact we were going through a state of dilemma.


Anxiety regarding what is going to happen in the future and the most important question mark, whether the family will stay together. If my son's VISA is not approved, I and my other children would have to leave USA and my husband has to continue working alone in the US. This means at least for 3 years we have to be separeated. Being so worried and upset at the thought of separating away from my husband and the children away from their father. Not knowing what to do and I noticed the Matrix Medal which I got from the church. Since there was no other solution to my problem and I vaguely looked at the Matrix medal and challenged it saying "If you are true, get the VISA for my son" and I took the Matrix medal and put it in the passport and placed it in a bag and closed it. Finally the day came to meet the Visa officers to my surprise they approved the visa without any hassle. The officers were very helpful and considerate.

Without Matrix Medal this family wont be together today and my son would not be going to college this spring Jan 2013.

Thank you GOD and Lord Jesus and Mother Mary and sister, Christina Gallagher

Thanks
Vasu and Raj
Massachussets"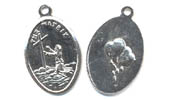 Related Links & More Information about Christina Gallagher,
Fr McGinnity and The House of Prayer Achill
'Why I Believe' by Fr Gerard McGinnity Ph D
Medically Inexplicable healings :


•Healing of Kathleen O'Sullivan of pancreatic cancer after prayers with Christina Gallagher and Fr Gerard McGinnity at the House of Prayer in Achill

•Doctor Says 'A Miracle' - The Healing of Jed Michael
after meeting Christina Gallagher

•Healings through Holy Water at the House of Prayer Achill
•Hundreds of Healings - Achill House of Prayer, and Christina Gallagher's mission




Further Information about Christina Gallagher, Her Spiritual Director Fr Gerard McGinnity
and the House of Prayer in Achill
Voice of Our Lady's Pilgrims - The Truth about the work of Our Lady's Fraternity, Christina Gallagher, Fr McGinnity and the House of Prayer in Achill